Django's
Photo
Gallery
CD/Promo Shots
groovy boots
inda cover
inda inside 1
inda inside 2
rot cd cover
rot cd back cover
more CD and promo shots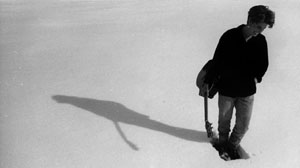 CD Cover photo for Inda Eaton.
January 1998.
Casper, Wyoming.
Shot with Kodak T-Max 400.

---
The snow here was really deep and Inda and I had to approach the location from just the right angle so we could get virgin snow and the shadow just right. We liberated a cable spool from somewhere and tried to use it to walk on the snow. If that doesn't make sense, that's because it didn't work.